Get Started
Supporting customers of the largest vehicle manufacturers in the U.S. since 1982.
At BBB AUTO LINE, we help you settle your vehicle warranty dispute without the need for an attorney. This dispute resolution program is free of charge to the vehicle owners of participating manufacturers. We offer both mediation and arbitration services to resolve automotive warranty, lemon law, class action, and other manufacturer disputes.
Your eligibility for the BBB AUTO LINE program can depend on a number of factors. If you are unsure about your eligibility status, the BBB AUTO LINE team can help.

Your vehicle must be covered under the manufacturer's warranty.

The type of problem you are having must be covered under the warranty.
The BBB AUTO LINE dispute resolution process is efficient and free for vehicle owners of participating manufacturers.
If you are experiencing a problem with your vehicle that is covered by your car's warranty, complete the form on this page (below) to file a claim with BBB AUTO LINE.
Once you file your claim, it will be handled by a BBB AUTO LINE specialist who will work with you to ensure you understand each step of the dispute resolution process.
If your claim is eligible, a BBB AUTO LINE Dispute Resolution Specialist will work with you and your manufacturer to find a solution that you and the manufacturer can agree upon.
If no mutually agreeable solution can be found, the BBB AUTO LINE team will help you begin the process of arbitration. Visit the "How Does it Work" webpage to learn more details about the BBB AUTO LINE process.
Need more information? Learn more about how BBB AUTO LINE works.
¿Necesita más información? Aprenda más sobre cómo funciona BBB AUTO LINE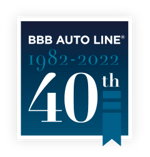 Celebrating 40 years of BBB AUTO LINE
BBB AUTO LINE
BBB AUTO LINE is one of the largest and longest-running dispute resolution programs in the United States. We help consumers and businesses resolve vehicle warranty, lemon law, and class action disputes in a hassle-free, timely, and cost-effective manner.
BBB National Programs Headquarters
1676 International Drive | Suite 550 | McLean VA 22102
BBB AUTO LINE Call Center
1-800-955-5100